Mystic Mail
Product and event announcements, directly to your email inbox. Because, F*** the algorithm.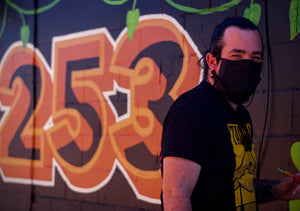 Meet the Mystic
My name is AJ and I am the hermit behind Mystic Graphics. I am a graphic designer and illustrator. I currently work for Costco Wholesale as a Associate Art Director & Manager. I started Mystic Graphics in 2018 as a creative outlet for my personal design and illustration work. I am inspired by the PNW and my adopted city of Tacoma Washington.
My goal is to make cool things and meet rad people. The more I venture out of my hermit hut the more I have met other inspiring creatives. I am by nature a quiet and private person but I have really enjoyed discovering more about the local art scene here in Tacoma.
Photo by Chris Gallardo